Address Fountain Views – Apartments in Downtown Dubai
Address Fountain Views brings you Dubai's most elegant and sought-after address. It is the ultimate address that sets a dazzling benchmark for style ad elegance. With a glorious Downtown location on Mohammed Bin Rashid Boulevard, these serviced residences come with remarkable views of the uber-cool surroundings. For instance, the striking views of Burj Khalifa, The Dubai Fountain, and the Dubai skyline are incomparable throughout the city. The masterpiece includes both a 5-star Address Hotel and luxury residences limited series. This is the first-ever serviced residence complex in Downtown Dubai.
The three distinct towers continue redefining Dubai's marvel architecture, adding glamour to the skyline. The building facade boasts a stunning design with delicate transparency and floor-to-ceiling windows. In addition, the buildings feature a 15-story mixed-use podium, with retail, parking levels, and a link bridge connecting to Dubai Mall.
Bespoke Units
These elegant Fountain Views offer a choice of over 788 lavish residences, including studios, one to four-bedroom flats, duplexes, and penthouses. Displaying floor-to-ceiling windows with stunning views over Dubai Fountains, the homes open with modern finishes and spacious interiors, marble bathtubs, and fitted wardrobes for maximum storage. Additionally, kitchens are fitted with premium appliances, while living and dining areas showcase premium furniture. Similarly, balconies come in a generous size. Furthermore, the uppermost six levels of the building host extraordinary penthouses with rooftop terraces and sizes up to 8,000 sq. ft.
The complex also has 194 hotel rooms.
Prices start at AED 2,000,0000 for two bedrooms and AED 11,000,000 for a four-bedroom penthouse.
Address Fountain Views Highlights
Living at the heart of a dynamic, cosmopolitan community with world-class appeal is a one-of-a-kind luxury experience. When your home overlooks Burj Khalifa and Dubai Fountains, you know you are part of something big.  The structures are an Emaar symbol, central to the city's vibrant tourism and dynamic culture. For example, it is a prime location for business and commercial hubs such as Emaar Square or Dubai International Financial Centre. Similarly, Address Fountain Views holds an impressive business lounge and private majlis designed for business guests.
Other highlights and facilities include a rooftop deck, a health club, gym, spa, jacuzzi, and sauna. Also, the fitness center has a yoga studio which includes personal assistance from certified trainers. The famous neighborhood caters to all lifestyle needs of both visitors and residents. Furthermore, a 100-meter long infinity pool, a spa, and top leisure facilities will ensure you receive the royal treatment.
Last but not least, The Address Fountain Views has direct access to the world's largest shopping and entertainment mall – Dubai Mall.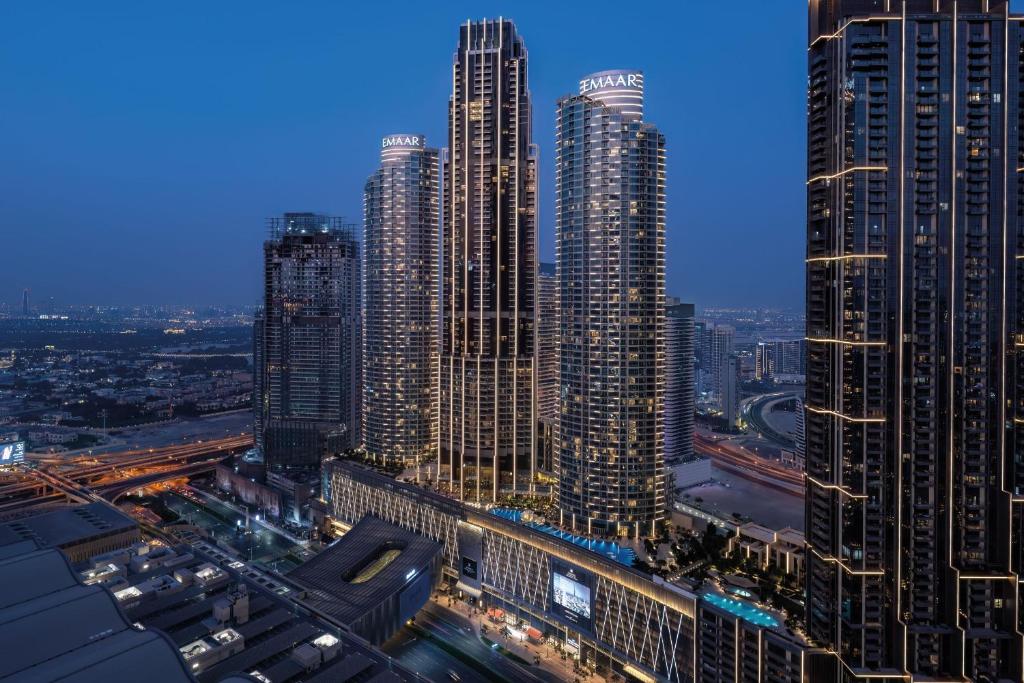 Similar Projects